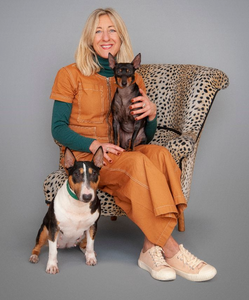 Whether you're a new puppy parent or you've adopted a Rescue, or just need some expert guidance and advice to help with particular issues or general training. Maybe you want to improve your dog's diet and switch from a processed alternative to a natural variety?
Through positive training the sky is the limit to achieve your lifestyle goals with your dog by your side.
With 20 years experience, I combine my Psychology degree with The College of Integrated Veterinary Studies to offer a holistic approach to training , behaviour and canine nutrition. I only combine positive reinforcement with proactive play to achieve the results to lose lead walking, perfect the elusive recall and build new house rules as many of us adapt to working from home.
If your dog has turned into a difficult teenager, or developed some anxiety issues including aggression, or a combination of all these issues, I'm happy to help fix the cause behind the behavioural symptom.
I'm also the co-host of The Barking Hour weekly on BBC Radio London, co-author of The Barking Blondes with Jo Good, I write for magazines including Your Dog, Animal Therapy Magazine, and My Weekly.
Zoom or FaceTime and obtain direct feedback from one of the UK's foremost authorities in dog training, behaviour and nutrition. Anna will listen, she will hear your dilemmas, concerns, anxieties. And put your mind at ease with sensible advice to ensure the best for your dog, and your relationship with your dog*
I'm available for a Zoom or FaceTime. It's great to get the family involved so that every guardian of your dog gets on the same page. Feel free therefore to invite your children, partner, parents. Let's Zoom this. And, don't forget to include your dog in the call!
Make your booking below and Anna will be in touch directly to arrange a mutually suitable time.
* As you might expect, Anna cannot guarantee results. Training or behaviour modification in a dog is dependent on a variety of considerations and won't happen overnight. Please proceed with kindness, let's strengthen the bond between dog and guardian and together help ensure you are providing your dog the best life ever.