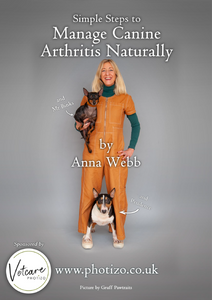 Simple Steps to Manage Canine Arthritis Naturally
ebook by Anna Webb (with Mr. Binks and Prudence)
Staying Mobile
Combining a natural Multi-disciplinary approach
Anna Webb, Broadcaster, Nutrition & Behaviour expert has studied with the College of Integrated Veterinary Therapies
Introduction
My journey to a multi-disciplinary holistic paradigm began when Molly my first Miniature Bull Terrier became ill in 2010.
Studying with the College of Integrated Veterinary Studies helped me see health as being comprised of three pillars.
Firstly, there's the nutrition pillar; secondly there's the immune system pillar, and thirdly there's the physical frame.
When all three are healthy we have achieved optimum health, but when one begins to crumble, it negatively affects the other two.
I have always been an advocate of feeding a fresh natural species appropriate diet as the foundation of health – you are what you eat.
We're made up of trillions of cells, which are nourished by our diet. Keeping cells healthy with no inflammatory responses is key to preventing disease, so eating the right healthy foods reduces inflammation and is a simple way of staying well.
To read more and get your copy of my ebook immediately, simply follow the purchase path on this page.
Thanks in advance and please do let me know how you get on with these simple steps to manage canine arthritis naturally! With love, Anna