A Dog's Life with Anna Webb
Tune into my podcast featuring the facts, the fun, and the fascinating of our very special relationship with our canine companions. Available on all good platforms :-) 
A Dog's Life with Anna Webb
How to ensure your dog has the Best Life ever
Why feeding your dog Vegan is Unethical
Who's kidding who? Dogs are carnivores. Thinking of Vegan for your dog? Think again. I tell you why this newfangled trend is, at best, misguided. At worst, Evil. 
Feeding Vegan to your dog is Unethical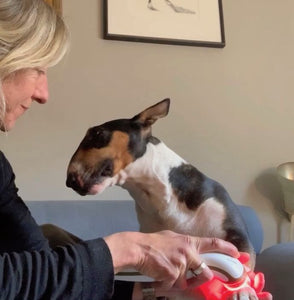 Red Light Therapy. It works!
Arthritis? Joint pains? Skin conditions? Itching? My personal journey with Prudence and Photizo's red light therapy. Read more!
Red Light Therapy
My personal training is the best foundation for your dog
As a writer, broadcaster and recognised (and certified) Expert in canine nutrition and dog training, I am actually available for one-to-one sessions. It keeps me connected. And I love it. 
Get In Touch
Anna's advice transformed our relationship with our dog Brisket

Jessica L, Waltham Forest
Anna offered us 'life-saving advice' to stop my two Cockerpoos' separation anxiety.

Gary, Clapton
We were out of our depth with our Romanian rescue, Anna helped us settle her in, and show us how to train and build her confidence

Paul and Lauren, Hackney