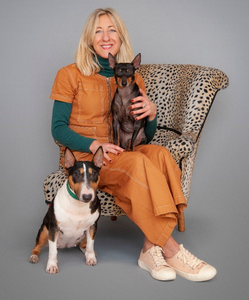 You love your dog and you're committed to ensuring they have the best chances possible for a long and satisfying life, naturally.
Fundamentally, this begins with Nutrition and Environment, with an emphasis on a science-backed natural approach and preventative care.
But there is more to this, including vaccinations, parasite control, the physical spaces your dog inhabits (sleeping arrangements, slippery surfaces, or steps and stairs, and impact on joints), and how these considerations also affect behaviour (towards people, family members including children, and other dogs), socialisation, temperament, routine, reduced anxiety, rest and contentment.
Join me for an initial 60-minute consultation, followed up by a 30-minute review where I deliver your dog's personalised nutrition and wellness programme. to set or re-set them for life.* We'll talk through the programme of course but I also send this to you as a pdf document. 
Before the consultation, I will send you a checklist of discussion points so we can get a head-start developing your dog's personalised plan.
With your dog's personalised nutrition and wellness programme, we will cover a lot of territory. This will include, but is not limited to, the following considerations:
Identifying conditions. For example: lethargy, scratching, chewing paws, dull coat, bad breath, gassy stomach, mood swings, focus, weight gain, weight loss.
Possible causes with recommended steps and actions to take:

Environmental stressors: offering alternative solutions to parasite control; chemicals in your home; building biology and the hidden chemicals in your home. 
Diet: you are what you eat. Dogs are carnivores. I help you devise the best species-appropriate diet for your pooch. "Let medicine be thy food, and food be thy medicine" - Hippocrates
Enrichment: the appropriate exercise. Brain games, emotional bonding, get your old dog moving, get your young dog listening to you, make your dog's world 'fun' revolving around you
dental health and how to pre-empt / reverse periodontal disease 
advice using herbs and homeopathy and possible alternatives like red light therapy 
Why you can have confidence in me and the programme we devise together for your dog
I am a qualified canine nutritionist by The College of Integrated Veterinary Medicine
I am bound by, and committed to, the Veterinary Surgeon's Act and do not provide treatment without your dog's veterinary consent (a consent form is provided)
I contribute frequently to national television, radio and print media as an Expert in canine behaviour and nutrition. Regular appearances on BBC Radio 2 The Jeremy Vine Show, BBC Radio Scotland, GB News, Talk TV, Talk Radio, This Morning, Your Dog, Animal Therapy Magazine, My Weekly, and more
I am the co-host of The Barking Hour weekly on BBC Radio London and co-author of The Barking Blondes with Jo Good
I am the host of the award-nominated weekly podcast A Dog's Live with Anna Webb, available on all good platforms, featuring a range of interviews with the world's leading and most-respected proponents of science-backed natural care and preventative treatment for our canine companions
More than 25 years' experience, a member of IAAT, the International Association of Animal Therapists and a Bronze Affiliate of the Raw Feeding Veterinary Society

Testimonials
There is plenty of feedback on my website from clients about their dogs that I've had the privilege of helping. Here are a few examples:
Anna has been brilliant with our two Italian greyhounds. She is a wealth of knowledge and is always there to hear our concerns. Both dogs are thriving since speaking with her and it's calmed our anxiety around vet trips where we just aren't listened to. Thank you! - Sarah and Harriet
Anna helped us out with understanding the right techniques to teach Stella to be calm. We're now raw food converts, Stella's coat is absolutely much shinier but the bigger benefit is to her stools, they definitely come out easier and she only goes 1-2 times a day (plus they're smaller than before). Would definitely recommend a session with Anna! - Sheri R and Mini Bull Stella

Anna provided tips on calming anxiety in ways I never thought with the use of rugs to stop him skidding on our floors and she has overhauled our thinking when it comes to looking after our pup. - Alexia M
Next Steps
Make your booking above and I will be in touch directly to arrange a mutually suitable time for us to get started on your dog's personalised nutrition and wellness programme. Let's be sure to include your dog on the call, alongside members of the family.
If you have other dogs in your household and would like personalised programmes for each of them, I am happy to offer this at a reduced rate with extra time of 30 minutes per dog on the initial consultation and 15 minutes extra per dog in the review (there will of course be overlap and duplication when it comes to environmental considerations so I hope you agree this is fair).
* As you might expect, like your Vet or other pet professional, I cannot guarantee results. Nutrition and wellness in a dog is dependent on a variety of considerations that will be out of our direct control.